So…you want to create a Gallery Wall?
I've always love the look of a wall filled with artwork. Whether is a modern home, country, traditional, or somewhere in between. A gallery wall always gives you a little inside scoop about who lives in the home. It's like spilling your personality all over a wall in your home.
So, no matter what your personality, to create a gallery wall, you have to figure out placement of your art work. Figuring out WHERE to put things is sometimes harder than figuring out WHAT to put on your wall.
So, you'll need these two websites to help you with placement –
ICOVIA.com – I use icovia to enter the measurements of my art work, then move the pieces around for placement
 POLYVORE.com –  I use polyvore to mach sure the colors are visual pleasing.
The first place to start is by collecting the artwork that you would like to group together. This might take a while to put together. But, you'll achieve a more "collected look" if you take your time and let it evolve with pieces you really love. You want to have a mix of sizes and colors, as well as different textures.
Add some different items to your wall to make it interesting. Clocks monograms, signs and mirrors will all work well with artwork.
photo via Louisa Craven 
If you're going for a more modern look, you can use all the same size, shape and colors for your frames.
photo by Natalie Warady
Once you have your images, input the sizes of each piece of art on icovia.com to see how they might look together, how large a space you need and whether you need to change, add to or rearrange some pieces.
I've gathered some new pieces of art from  Minted and mixed in some of my old favorite items I already owned for my gallery wall.
 I needed to add a few pieces to my collection so I used Minted to find just what I was looking for.
I loved the variety of artwork on Minted and the fact that I could shop by category like "limited addition", "Typography", "Photography" etc…  I could also see the size of the image and what my frame choice would look like on my art work before I committed to it.
I have lots's of monograms and other interesting items, but I didn't have much "artwork" in our home. So, I thought Minted was the perfect place to start. Here's a sneak peak at some of the items I'll be using in my gallery wall.
I created this collage on polyvore and I'm pretty sure I like the placement of the art.
I saved the images of artwork from the Minted website to my polyvore account.  I use my polyvore account to show clients how certain items would work together in their home, so I thought it would work well for this purpose too.
It works just as well for virtually arranging art work, since I can just drag each item with my mouse. I was able to place each piece exactly where I wanted it and move them around until I found the perfect position.
I also use another website for art work placement called Icovia Room Planner. This sight allows me to input the exact size of each piece, so I can accurately place them on my "virtual wall".
There's also tons of ideas online to help you decide what kind of placement you'd prefer on your gallery wall.
image via LiveLoveDiy.com
Check out some fabulous examples of Gallery Walls across the internet…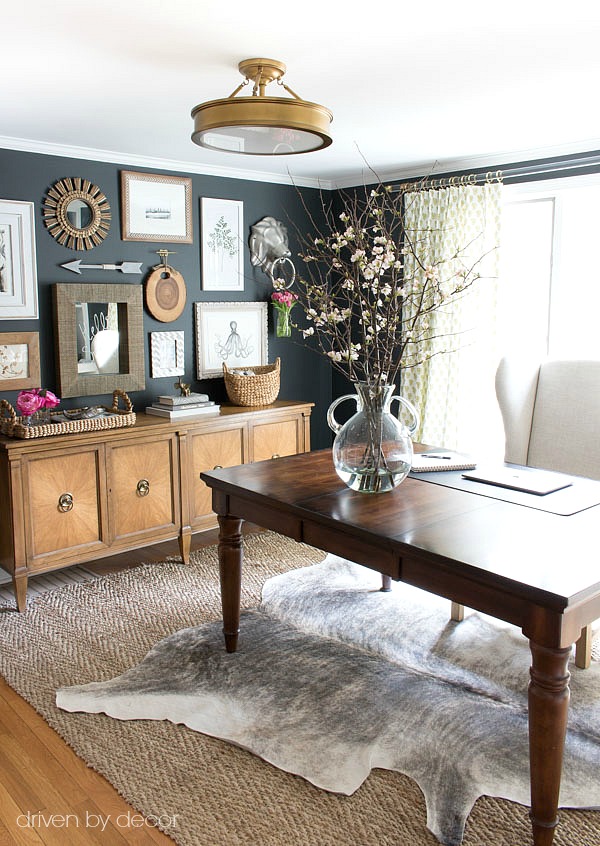 photo via DrivenbyDecor.com
photo via SheerLuxe.com
photo via ScaramentoStreet.com
photo via TheEveryGirl.com
Some tips to keep in mind when creating your gallery wall
Place the largest items off center
Balance the distribution of color evenly
Use different shapes and size
Add texture with original items (fabric, clocks, monograms, etc…)
Use 3m velcro hooks instead of nails when possible in case you want to move your gallery wall around
I added some smaller frames and a wooden feather to my wall after I placed the main pieces from Minted.com.
it's a huge improvement from the dirty blank wall that I started with –
Since I was refreshing the hallway, I knew a coat of paint would work wonders as well.
I chose Sherwin Williams Fortunate Gray
So happy with my new accent gallery wall ..all with a little help from Minted.