Hey guys! I know Mother's Day is fast approaching.
So, get started now with the perfect gift for Mom, or any special girl in your life!
If you know me, you know I love my JORD Wood Watch and I love to give it as a gift.
In fact, I'm giving this gorgeous watch below to someone special this Mother's Day.
(She's probably reading this now! she's like a second mom to my 3 kids
and we don't know what we'd do without her!)
I also had the back engraved to make the gift even more special.
Do you have someone special you'd like to give a JORD watch to?
Well, I'm giving away a
$100 gift card to JORD Wood Watches.
(Even if you don't win the gift card, all entries will receive free engraving and a instant gift card of $25)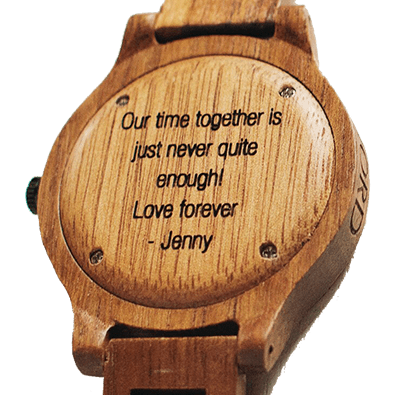 There are so many beautiful watches to choose from, but the pink and turquoise faces are my favorite.
So, get a jump start on your gift giving and enter to win the
$100. JORD gift card
and get your
Mother's Day gift customized. What will you engrave on your mom's watch?
Whatever you chose, I guarantee she'll LOVE it!
The winner will receive an e-gift code that will be emailed to them at the end of the giveaway
[wysija_form id="4″]