FARMHOUSE PICNIC TABLE
This stenciled picnic table has quickly become the backyard favorite.
Watch here as I show Jenn from good Day Philadelphia a little bit on how I accomplished this look:

SUPPLIES NEEDED:
raw wood picnic table
1 quart wood conditioner
1 quart stain
1 quart spar urethane
stir sticks
60, 120, 200 grit sand paper
sander
wrench to tighten and loose nuts
natural bristle paint brush
gloves * not necessary
stencil  * not necessary
stencil brush  * not necessary
The table is a raw wood and needs to be painted or stained or it won't last very long outside. At $109. this is a great deal. BUT, you have to put some elbow grease into this project. I sifted thru the tables that were on site at my local store. NONE of the tables were perfect. Some were wobbly, some had so many knots in the wood it was ridiculous. I chose the best table I could find, but I still had some adjustments to do when I got home. 
Purchasing my dream farmhouse picnic table is out of the question. this is the best way to create your own Farmhouse Picnic Table.
I tightened all the screws and nuts and sanded down as much uneven parts that I could. Again, it was $109. The best price out there.
The first thing I did to the table was give it a good sanding with my hand sander. Since it's raw wood it's VERY rough. I sanded the surface of the table and seats and also the edges.
Sit down at the table several times to check every area. Make sure that no matter where someone sat, there would not be any sharp or rough edges.
The table top also had words stamped on it. Normally I would be into this kind of thing, if it was vintage. Since this is just a label from the lumber yard, I decided to sand it down and get rid of the stamp.
Once sanding was complete, I painted the entire table with wood conditioner. This might seem like a step you'd want to skip, but don't. The wood conditioner prepares the wood for a smooth consistent stain. You will get a cleaner looking and longer lasting finish if you start with the wood conditioner (which is clear).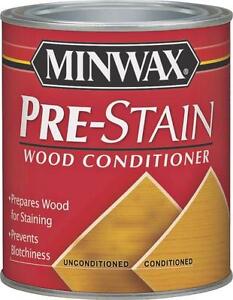 I thought it over and decided I would use both paint AND stain on my farmhouse picnic table. Stain on the top and on the seats, and a white distressed finish on the base. 
I mixed to different Min-wax stains together. Why? because that's what I had on my garage. I had 2 pints on hand and I knew I'd need a little more than ONE pint. So, rather than adding a shopping trip to this project, I mixed the two colors together. The 2 stains were close enough in tone that I knew mixing them together would get me the farmhouse picnic table look I was going for. I used Dark Walnut and Espresso.
When staining make sure you use a natural bristle brush to paint in the same direction as the grain of the wood.
Once you get a coat of stain on the wood, immediately wipe off any access stain. You can see in the photo below the difference between leaving too much stain (on the left) and wiping it off (right).  if you want a darker, more richer look, just apply additional coats, wiping each time until you achieve your desired color.
I painted the base of the picnic table "Shiplap" by Magnolia Paint. I sanded the final coat of shiplap to create an aged appearance.
The combination of paint and stain are stunning, but I wanted more.
To add a little boho vibe to my farmhouse picnic table, I ordered THIS stencil .
I used the same ship lap white paint from the base on the stencil.
The entire table received 3 coats of Minwax Spar Urethane to seal it.