Stone House Revival Master Suite
Are you a fan of DIY Network's Stone House Revival?
If you're new here, let me introduce myself. I am Denise Sabia and I am the design coordinator for DIY Network's Stone House Revival.
Season 3 premiered a few weeks ago. Stone House is on every Wednesday at 9pm on the DIY Network.
Did you watch last night's episode?? What was your favorite part?
Here's a little recap in case you missed it…
Jeff Devlin and his crew renovated a master bedroom suite and hallway of a 1785 Farmhouse. The master bedroom was cramped and had way too many doors!
The crew closed off the door to the bathroom (don't worry, there is another way into the bathroom) to make room for the couple's navy blue accent wall and new bed.
Floating barn wood shelves were built for each side of the bed. Sconces were hung above the shelves to provide general light and light at night for reading.
Across from the bed is this gorgeous stone wall that was hidden for years. Jeff and the crew framed the stone with barn wood, painted the walls and added a picture rail.
The historic picture rail was added to 2 walls in the room for the family to display artwork and family photos.
Outside the bedroom is this charming hallway that leads to other bedrooms and the bathroom.  The painting crew added a 3 dimension stencil pattern around the room in a soft and subtle shade of blue.
Step inside the bathroom for a complete renovation!  The old room was dated and didn't function very well for the family. The new bathroom is bright, airy and full of charming features. The cement floor tile pattern was one of my favorites in this space.
Paint Colors:
Bedroom Accent wall Ben Moore Witching Hour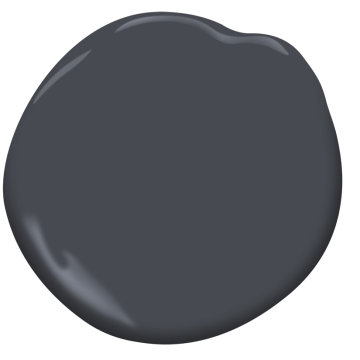 Trim, ceiling and wainscoting Ben Moore Decorators White
Hallway walls Ben Moore 2133-70
Stencil Ben Moore CC-118
Bathroom Walls Ben Moore 2133-70
Light Fixtures:
Bathroom sconces
Master Bedroom ceiling light
me…trying to figure out how I can refresh the hallway sconce…
In the end I spray painted the existing sconce silver, hung it the opposite way it originally was, and added a seeded glass globe.
This fixture wasn't replaced is because it was made with the on/off switch attached to the sconce. (They don't make light fixtures like that anymore) So, it would have been a huge expense to rewire the entire hallway and add a light switch (We can't do EVERYTHING on these shows) Compromises were made and we kept the original light and zhushed it up a bit.
Did you spy this beauty in the hallway? So gorgeous! From Vintage Incorporated in Schwenksville, PA