When we moved into our townhome in 2018, I knew we would be doing a stair railing makeover.
You can see why in the below photo. Hello 1980. Although this DIY stair railing makeover seems like a reasonable project for Tom and I to handle, we knew there would be some detail work that we'd need a more experienced carpenter for. We wanted the finish work to be perfect.
Tom and I tackled the demo ourselves.
Then we had our friend, George, a master carpenter, add the kneewall plate, newel posts and railing.
Before George arrived, we pre-stained the railings. So he could install them in place already sanded and stained.
I worked with LJ Smith Stair Systems and they were very helpful in walking me through the selection process.
Stair Railing Makeover
If you're interested in removing your old railings and replacing them, here's the steps you need to take.
 1. Choose the Style
Iron
Wood
Cable
or a combination of all three
This diagram of stair parts will help you select
the correct materials for your project
or you may have a knee wall.(we have a knee wall)
2. Choose the Newel posts
First, choose what material newel posts you'd like. We chose chunky pre-primed wood newel posts because we knew we wanted white painted posts, not stained posts.
Then, decide if you want the newel post to have::
fluted panels
raised panels
recessed panels
plain panels
inlaid panels
We used a simple plain paneled box newel
3. choose the balusters (aka spindles)
I love the look of simple iron balusters.
Several finishes available. We chose satin black iron balusters.
This video helped us a lot when installing our iron balusters.
Since we have a knee wall, we also needed these knee wall kits as well.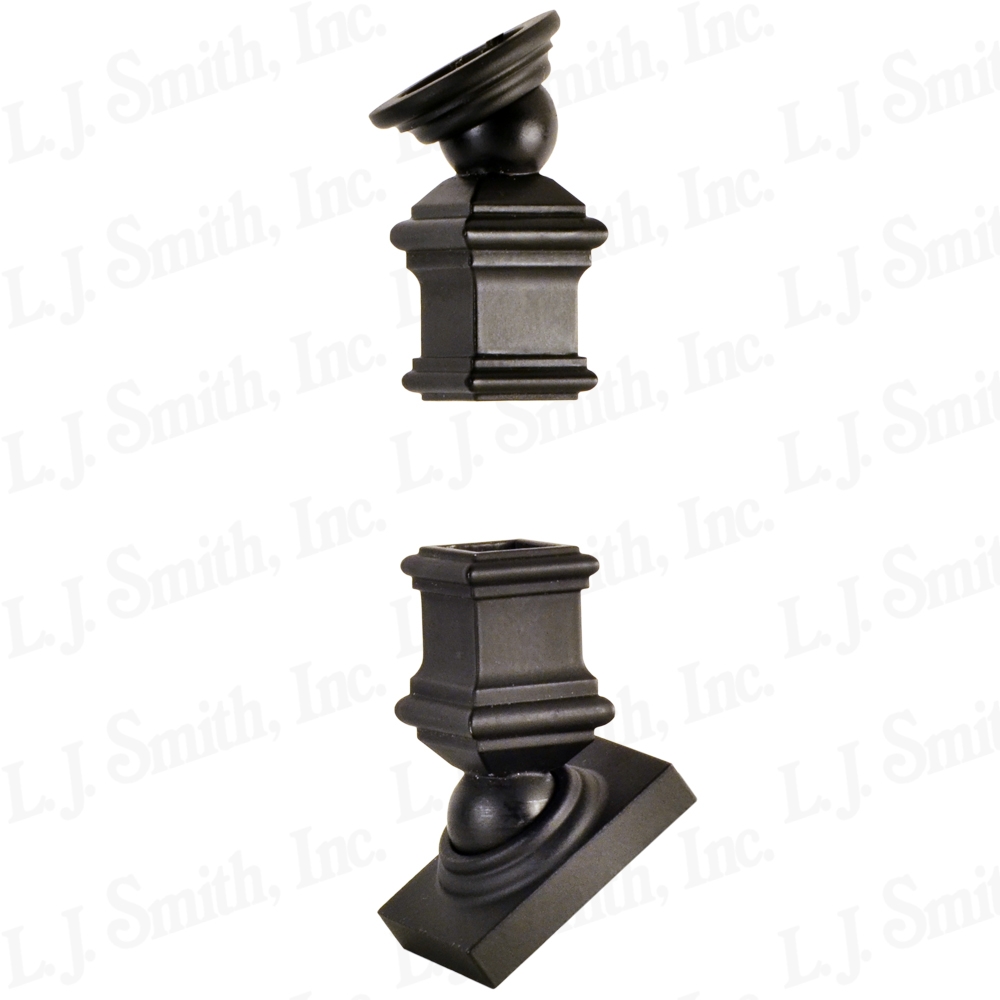 In addition, we needed very short balusters, only 27.5″.
So, the 44″ iron balusters needed to be cut down with a hack saw.
Once all your selections are complete. You will need to demo your existing railing.
Replace the bottom kneewall plate.
 A few tips::
stain your handrail before installation
paint the kneewall plate before you install the balusters
Find the center point of your kneewall plate and make a mark. Then make a mark ever 4″. This will be the base of your baluster. Install the double side screw that comes with the knee wall kit.
Then, attached the ball adapter to the bottom part of your handrail.
Once you have the top and bottom of the kneewall kits attached to the kneewall plate and the handrail, you are ready to insert your baluster.
You will have to cut your baluster to fit your particular stair railing.
Insert your cut baluster and follow the instruction on the video to secure the baluster to the top and bottom. (be sure to watch this video before you cut ANYTHING!)
Also, more installation videos from LJ Smith Stair Systems HERE. I highly recommend you spend some time watching the videos on the LJ Smith Stair Systems You tube page.
Now, let's get to the money shots!
The new stair systems added so much elegance to our home. It's the first thing you see when you walk in the front door and I couldn't be any happier!
[wysija_form id="7″]